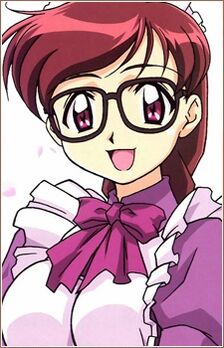 Taeko Minazuki
 (水無月 妙子 
Minazuki Taeko
) is a new member of the Meiritsu University's Photography Club and eventually moves into the Sakuraba summer house as the housekeeper after being relieved of her previous housekeeping job (which was a live-in job). Her two most prominent features are her very large breasts (which, according to her, are still growing) and her clumsiness. She was so clumsy that
Aoi Sakuraba
had to convince
Miyabi Kagurazaki
to hire her, as she had a tendency to break a lot of valuable or expensive objects, but she tries to do her best.
Tina
commends Taeko for her effort and tells her that she is getting better. Taeko explains that the reason she wants to be a housekeeper so badly is because when she was little, her father had died and her mother had to raise her as a single parent. Taeko's mother was very proficient at keeping house, and Taeko wishes to achieve the same proficiency that her mother had. She also develops feelings for
Kaoru Hanabishi
as the series progresses. She likes to put chocolate in all the dishes she makes, even in fish. In an episode of 
Ai yori Aoshi: Enishi
, it is indicated that Taeko has an interest in the supernatural, as well as training as a 
miko
(a Japanese priestess or shrine maiden). Four years later, Taeko is seen working at a Sakuraba Department Store where Miyabi is the manager.
TBA
Relatives
Edit
Mrs. Minazuki (mother)
Mr. Minazuki (father, deceased)
Chika Minazuki (cousin)
Relationships
Edit
Kaoru Hanabishi
Edit
Tina Foster
Edit
Aoi Sakuraba
Edit
Miyabi Kagurazaki
Edit
Chika Minazuki
Edit
Being Taeko's cousin, it is assumed they get along well.
Community content is available under
CC-BY-SA
unless otherwise noted.